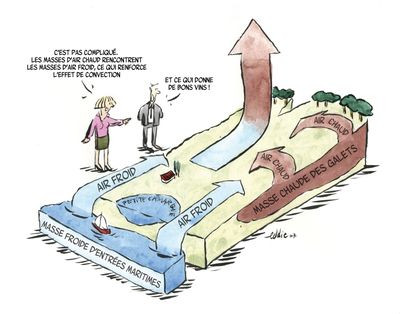 A Rhone terroir
The terroir of Costières de Nîmes, consists of gravel deposited in the Quaternary by the Rhône and Durance, locally called Gress.
These stony alluvia present on a thickness of 5 to 15 meters are wrapped in sand whose color varies from light yellow to dark red. The vines develop a very deep rooting up to the clay layers, which gives them, even during heat waves, a moderate but steady water supply. The exceptional draining capacity of the pebbles makes it possible to evacuate quickly the surplus water during the powerful rainy episodes.
A Mediterranean climate
In summer, the hot mass formed by the pebbles reinforces the convection effect: the fresh sea entrances that cross the Petite Camargue at the end of the afternoon meet this hot mass going up along the Costières, thus creating a real aspiration air. The tempering effect of these breezes reinforces the thermal amplitudes between day and night, which is recognized to preserve the freshness and purity of the fruit of the wines.
In addition to the exceptional quality of the soil by its richness in pebbles, the field benefits from an exhibition in light slopes oriented South, South-East. The proximity to the main ponds of the small Camargue (Courgoulier, Charnier, Scamander) gives it a greater freshness of the nights, which is undeniably found in the wines produced.